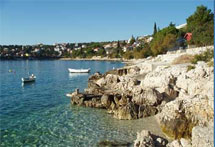 Mavarstica, island Ciovo, Croatia
Mavarštica is a small village and lagoon, situated on the south side of the island Čiovo, 1 km from Okrug Donji and 5 km from the city of Trogir.
From the lagoon Mavarštica, there is a marvelous view at middle-dalmatian islands Šolta and Brač. Gorgeous beaches, peace and clear sea, beautiful nature and great atmosphere are perfect for those who prefer peaceful family vacation.
On the other hand, for those who are looking for nightlife and entertainment, the vicinity of the Trogir and Split town crowd, makes Mavarštica a perfect place for vacation.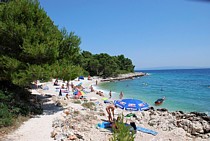 The village disposes of a shop, restaurant and cafe, while larger shops and markets are in nearby Okrug Gornji. In the city Trogir you will find numerous shops, restaurant, bars, clubs, green market, fish-market and many other services which will make your rest more pleasant.
The complete south side of the island Čiovo is known for beautiful beaches and numerous hidden and lonely lagoons where everyone can find a peaceful corner for himself. For those of adventurous spirit, we recommend leasing small motor boat and sight-seeing of aquatorium of Čiovo and nearby islands.