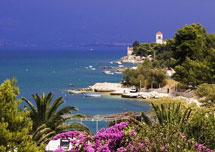 Okrug Gornji, island Ciovo, Croatia
Okrug is located on the western side of the island Ciovo. It is divided into Okrug Gornji and Okrug Donji, two traditional Dalmatian villages. It is the centre of the Dalmatian micro region by its geographical position. It has a mild Mediterranean climate, dense subtropical and Mediterranean vegetation, an archipelago of picturesque little islands, uncountable little bays and beaches.
Okrug is one of the most attractive tourist destinations in Croatia with its 2670 sunny hours per year.
There are a lot of restaurants and taverns in Okrug Gornji and Donji with a rich choice of original Dalmatian specialities. We offer our guests, beside a lot of sun and the clear sea also various recreation contents.
The diving- school gives the opportunity of pleasure in the beauties of the Adriatic Sea; the fitness- centre with tennis- grounds deliberates from all stresses of the modern life. Every day excursions are organized with little boats to the silent bays in the near. You can rent scooters and you can fly with parachutes on the local beach.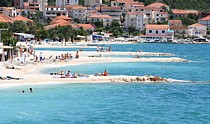 The nearness of Trogir (2 km), which is under protection of UNESCO, offers the possibility to discover the 2800 year old centre. You can enjoy there also the night life. You can make excursions from Ciovo to the waterfalls of the river Krka (60 km), to Split (33 km) and to the Marian Shrine in Medugorje (100km). It is significant that the Split airport is only 8 km away from our village.

The average temperature of 16° C and 281 days in the year with an average temperature above 10° C are prerequisites for a pleasant stay during the whole year.