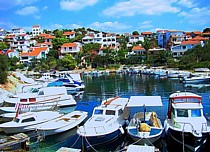 Okrug Donji, island Ciovo, Croatia
Okrug Donji is a place on the west side of the island of Ciovo, southwest from Trogir and west of Okrug Gornji.
In the village there are few bars, restaurants and taverns with rich choice of local specialties.
Unforgettable events are fishing nights, which are held several times during the summer.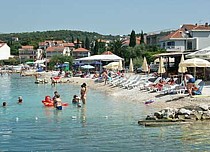 In Okrug Donji you will find a chapel of St. John the Baptist. No one knows the exact year of its built, but was first mentioned in 17th century. In the chapel is a small altar and a statue of St. John the Baptist.
Okrug Donji is a quiet place, with no big crowds, with gravel, stone and concrete beaches. It is well positioned for windsurfing and diving.